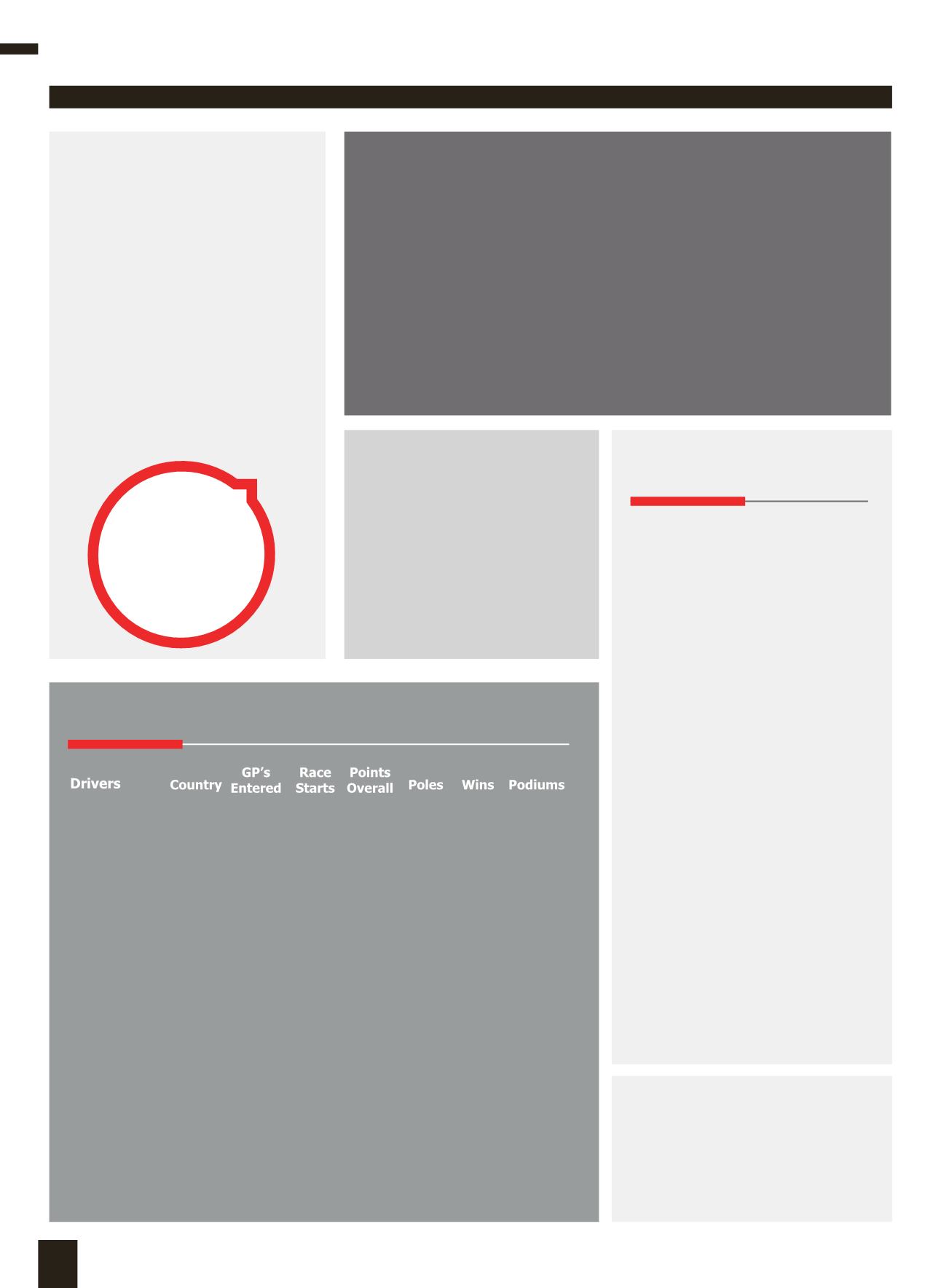 Points allocated at each Grand Prix
count towards the overall World
Championship standings.
(1st 20, 2nd 15, 3rd 12, 4th 9, 5th 7, 6th
5, 7th 4, 8th 3, 9th 2, 10th 1)
A Grand Prix weekend consists of
two/three practice sessions, official
qualifying, race.
Qualifying : 60 minutes
Q1 :20 minutes, top 12 go through
(times reset)
Q2: 15 minutes, top six go through
(times reset)
Q3: top six, two flying laps
Grand Prix – not to exceed 60 minutes
The F1H2O World Championship is a multiple
Grand Prix series taking place in Europe, the
Middle East and Asia.
278
Grand
Prix
INAUGURAL SEASON
1981
(no World Championship 1987 – 1989)
32 COUNTRIES
35
th
SEASON
13 WORLD CHAMPIONS
7 MULTIPLE WORLD CHAMPION
Guido Cappellini (ITA) 10
Scott Gillman (USA) 4
Alex Carella (ITA) 4
Philippe Chiappe (FRA) 3
Renato Mollinari (ITA) 3
Sami Selio (FIN) 2
Jonathan Jones (GBR) 2
47 GRAND PRIX WINNERS
RACE BOATS
single-seater, enclosed cockpit,
tunnel-hull catamarans
Construction
: carbon fibre/com-
posite
Hull
: 6 metres
Width
: 2.1 metres
Weight
: 390kgs
Engine
: Mercury 2.5litre
HP
: circa 400
Top Speed
: 220km/h – 136mph
DRIVER STATS
HALL OF FAME
WORLDCHAMPIONS
F1H2O
Sami Selio
FIN
157
154
980,5
25
13
46
Francesco Cantando ITA
179
174
934,5
4
12
42
Thani Al Qamzi
UAE
132
131
805,5
2
7
35
Philippe Chiappe
FRA
121
116
719
6
9
34
Alex Carella
ITA
56
56
583
15
15
30
Ahmed Al Hameli UAE
84
79
453
10
7
19
Shaun Torrente
USA
46
45
390
7
7
18
Jonas Andersson
SWE
93
92
481
4
5
16
Erik Stark
SWE
31
30
99
4
3
9
Duarte Benavente POR
153
140
366,5
0
0
6
Marit Stromoy
NOR
82
77
199
1
1
3
Filip Roms
FIN
41
38
90
0
0
2
Peter Morin
FRA
11
11
49
0
0
1
Bartek Marszalek POL
38
33
66
0
0
0
Cedric Deguisne
FRA
25
23
23
0
0
0
Grant Trask
AUS
13
13
19
0
0
0
Erik Edin
SWE
7
6
18
0
0
0
Rashed Al Qemzi
UAE
8
7
2
0
0
0
Simone Schuft
GER
5
3
2
0
0
0
SutthiphanSookbuangbon THA
2
2
1
0
0
0
MetteBrandt Bjerknaes NOR
2
2
0
0
0
0
Year
Driver
Country
2017
Alex Carella
Italy
2016
Philippe Chiappe
France
2015
Philippe Chiappe
France
2014
Philippe Chiappe
France
2013
Alex Carella
Italy
2012
Alex Carella
Italy
2011
Alex Carella
Italy
2010
Sami Selio
Finland
2009
Guido Cappellini
Italy
2008
Jay Price
USA
2007
Sami Selio Finland
2006
Scott Gillman
USA
2005
Guido Cappellini
Italy
2004
Scott Gillman
USA
2003
Guido Cappellini
Italy
2002
Guido Cappellini
Italy
2001
Guido Cappellini
Italy
2000
Scott Gillman
USA
1999
Guido Cappellini
Italy
1998
Jonathan Jones
Great Britain
1997
Scott Gillman
USA
1996
Guido Cappellini
Italy
1995
Guido Cappellini
Italy
1994
Guido Cappellini
Italy
1993
Guido Cappellini
Italy
1992
Fabrizio Bocca
Italy
1991
Jonathan Jones
Great Britain
1990
John Hill
Great Britain
1989
Not competed
1988
Not competed
1987
Not competed
1986
Gene Thibodaux
USA
1985
Bob Spalding
Great Britain
1984
Renato Molinari
Italy
1983
Renato Molinari
Italy
1982
Roger Jenkins
Great Britain
1981
Renato Molinari
Italy
WORLD CHAMPION
Alex Carella (ITA) - Victory Team
WORLD GOVERNING BODY
Union International Motonautique (UIM)
President: Dr. Raffaele Chiulli
PROMOTER
H2O Racing
President: Nicolò di San Germano
n° 5 DECEMBER | 2018
24