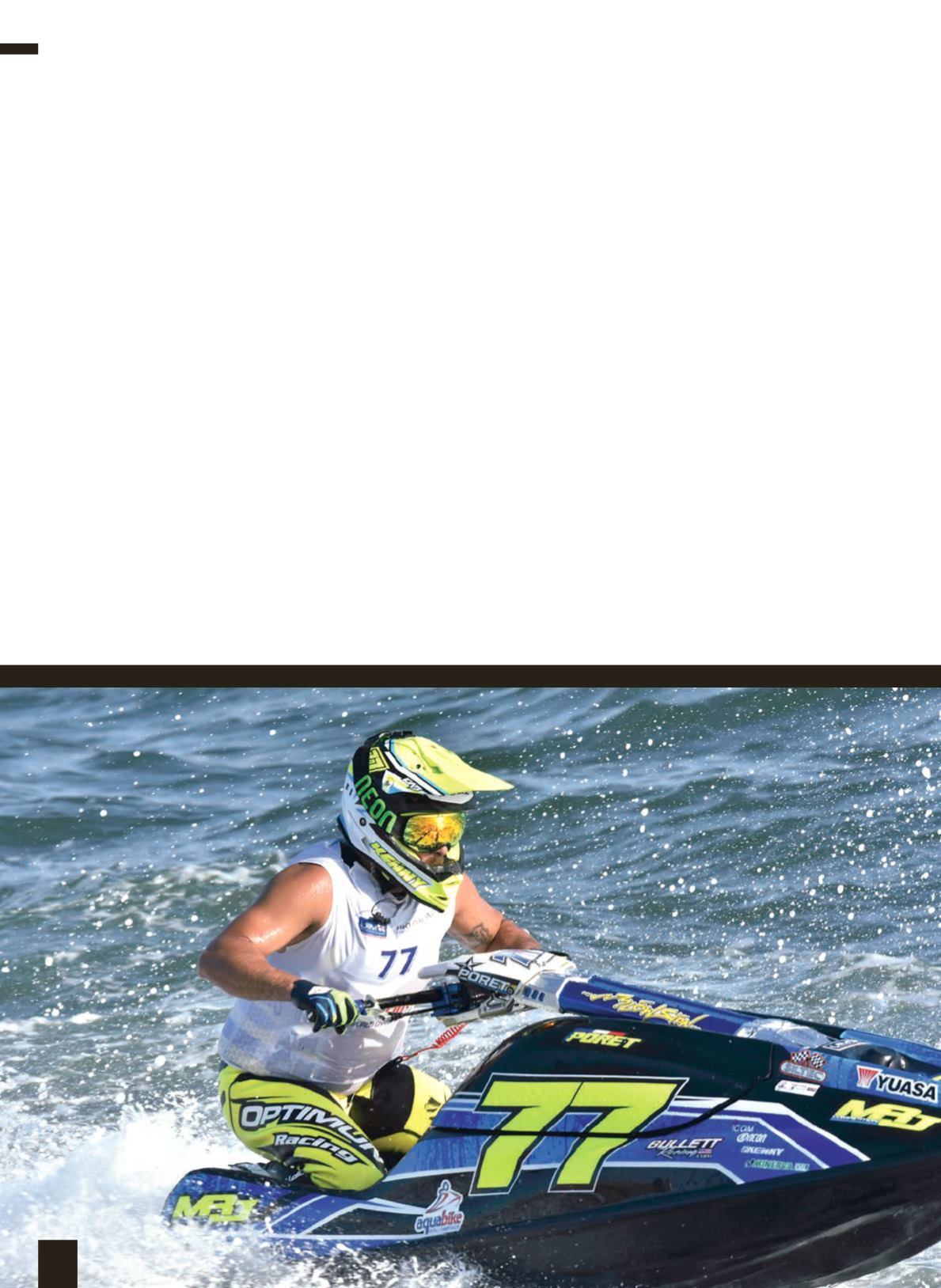 AQUABIKE
One rider who may well have a big say in the overall
outcome should either of the front runners falter
is the man in third place, Hungary's Gyorgy Kasza.
Kasza is blindingly quick, a two-time Moto winner
with three podiums under his belt and but for a
technical problem in the season opener in Moto 2
after winning the first and a post-race penalty that
dropped him from first to third in the second Moto
in Olbia he would be within touching distance of
his rivals if not holding the points lead instead of
needing to overhaul a 17 point deficit.
Outside the top three but with too much ground
to make up to challenge for title honours are a
clutch of riders capable of taking wins and points
out of the lead trio and are previous GP winners;
Lars Akerblom, currently fourth in the standings
and runner-up in the title race last year and James
Bushell, runner-up in 2015 and who has qualified
in pole in Sharjah twice but is having a poor season
and down in 12th, whilst the likes of this year's
European Champion Christophe Agostinho and
Marcus Jorgensen are both capable of challenging
for podium places.
In Ski GP1 Kevin Reiterer looks well-placed to regain
the title he first and last held in 2015 and heads
to Sharjah with a 14 point margin over the 2018
European Champion Raphael Maurin, picking up a
first Moto win and podium for Victory Team in the
season opener and then taking the GP win in Olbia
with maximum points.
Reiterer is another with an impressive record
on Khalid Lagoon, winning the GP title twice but
his breakdown in last years' final Moto ended his
unbeaten run and will be a stark reminder for the
Austrian ace that nothing is a given.
Frenchman Maurin is the closest challenger and
will feel that he is in with great chance after edging
Reiterer in Gallipoli for overall victory and following
that with another podium in third.
Forty points plus is the unlikely margin to overturn
facing a chasing trio of hopeful outsiders led
by former two-time champion Mickael Poret,
defending champion and last years' Sharjah victor
Quinten Bossche and Stian Schjetlein who has
podiumed twice in Sharjah.
The Ladies division has produced some of the
outstanding racing and performances of the season
and is a three way fight for the title between Latvia's
Krista Uzare, Sweden's two-time and defending
n° 5 DECEMBER | 2018
30