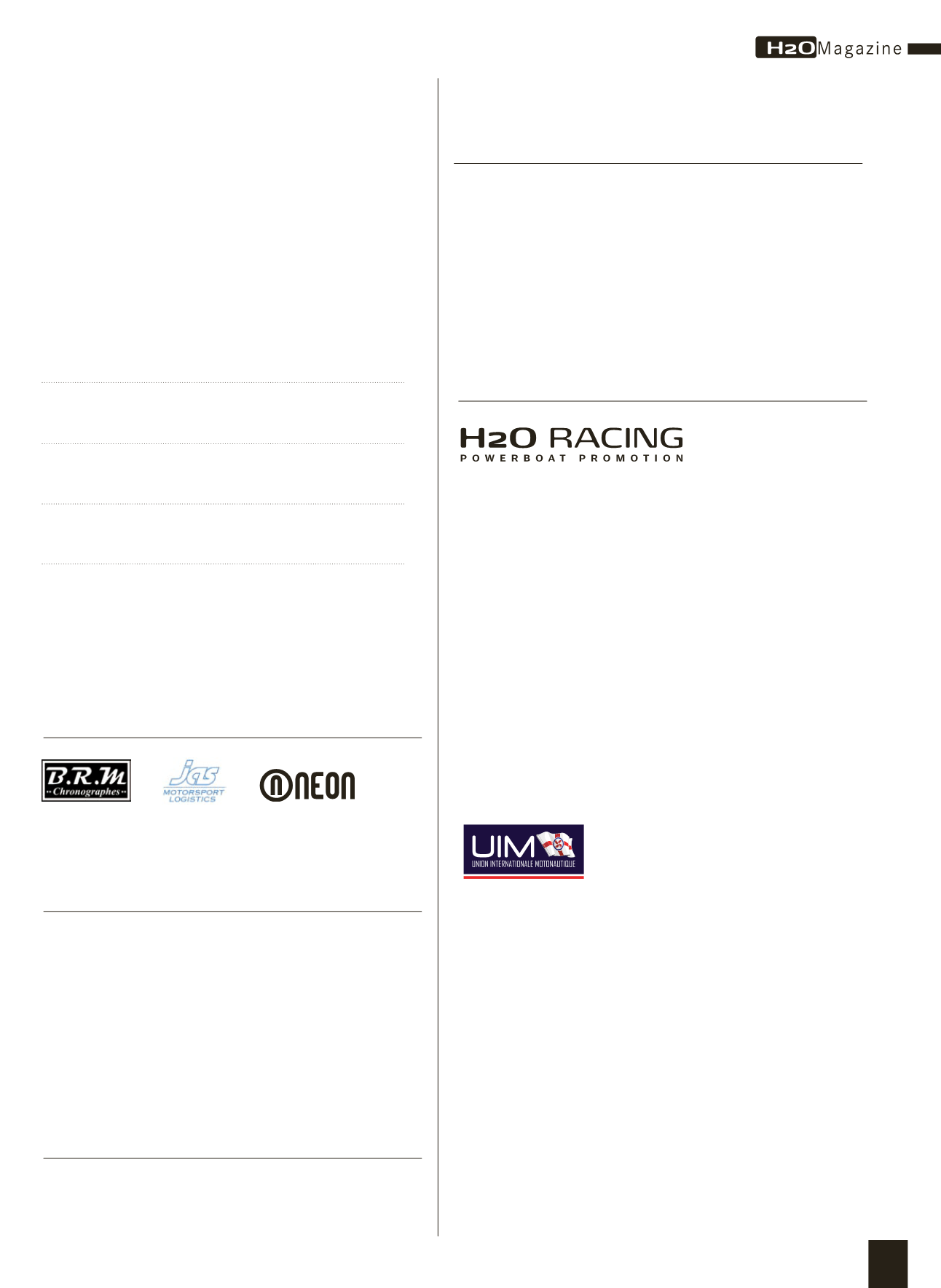 Contact
Info
For marketing information, contact:
email:
marketing@h2oracing.net
For media information, contact: Nigel Quilter
tel: +44 1252 713223
mob: + 44 7785 325346
email:
media@h2oracing.net
Commercial partners
©2018 H2O RACING
All rights reserved
Published by H2O RACING
H2O RACING Headquarters
Global Gateway 8, Rue de la Perle,
Providence, Mahé, Seychelles
Produced by H2O RACING
Art director:Alessandra Balzan@
Comcentrica
Photographers: Simon Palfrader,
Vittorio Ubertone, Arek Rejs
Editorial: H2O Racing
Web
Organisations
F1H2O
f1h2o.com
NC
cuph2o.com
AQUABIKE
aquabike.net
Index
UNION INTERNATIONALE MOTONAUTIQUE - UIM
The UIM is the world governing body for all Powerboating activities. It is
fully recognised by the International Olympic Committee (IOC) and is a
member of the Association of the IOC Recognised International Sports
Federations (ARISF) and of SportAccord for whom the UIM President
serves respectively as President and Vice President.
The UIM has 59 affiliated National Federations; Circuit, Offshore,
Pleasure Navigation and Aquabike are the main disciplines. The UIM has
signed a Cooperation Agreement with the United Nations Environment
Program (UNEP) to further its range of environmental initiatives, share
expertise and work together for "greening" the Sport.
President: Dr. Raffaele Chiulli
uimpowerboating.com
H2O Racing is an international sports management, marketing and media
company responsible for organising and promoting events in powerboat
and jet ski racing – two of the most spectacular and entertaining sports
on water.
The multi-faceted company, founded by Nicolo di San Germano in
2011, takes care of all commercial activities relating to three Union
Internationale Motonautique (UIM) sanctioned properties; the
F1H2O Powerboat World Championship, the Aquabike Circuit World
Championship and the Nations Cup Powerboat World Series.
H2O Racing is made up of a group of dynamic professionals with over 30
years of experience in the sporting and event management sector, and a
great passion for the industry.
President: Nicolò di San Germano
h2oracing.net
3
04
News
06
F1H2O
26
Aquabike
38
Calendar
05
DECEMBER
2018