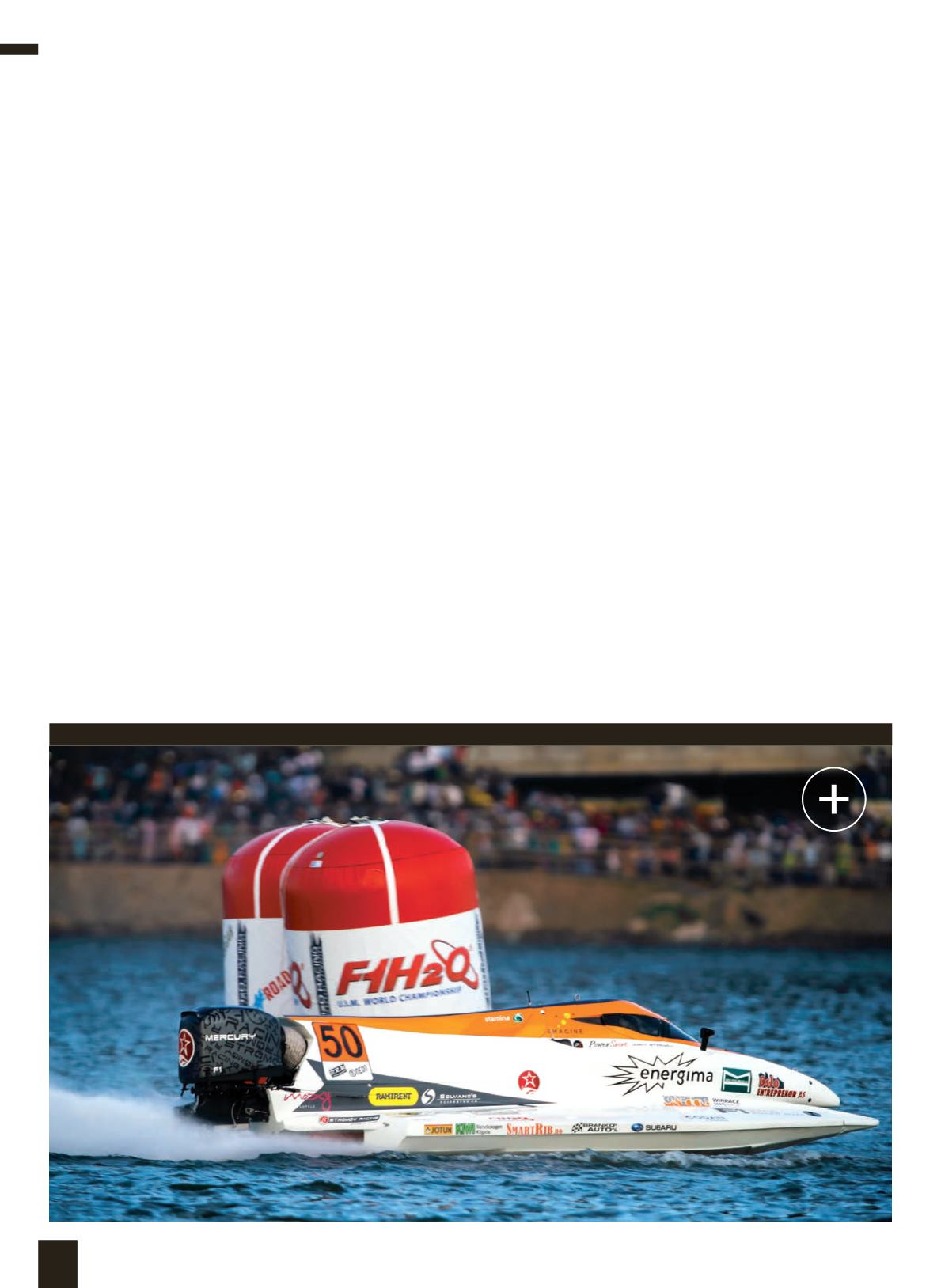 F1H2O
ourteen years after the UIM F1H2O
World Championship's first visit to the
subcontinent to Mumbai in 2004, the
championship returned for the Grand
Prix of India in Amaravati – and the wait
was absolutely worth it.
And what a treat the organisers
Malaxmi Group, the Andhra Pradesh
Tourism Authority and the people of
Amaravati served up - and the drivers and teams responded with
two days of simply brilliant action on the Krishna River.
Official figures put the race weekend attendance at 175,000 and
the electric atmosphere, the cacophony of noise and colour and
wonderful chaos carried all the way from the town and the streets to
the river banks as the crowds cheered every passing boat and raised
the roof every time a Team Amaravati boat went by.
On the water the weekend belonged to Team Abu Dhabi's Shaun
Torrente who delivered an imperious performance to deliver a
seventh career pole position and matched that tally with a lights to
flag victory in the race to move back to the top of the championship
standings for the first time since the season opener in Portugal in
May.
The American delivered two moments of pure magic when under
immense pressure; the first in BRM Official qualifying when with less
than 30 seconds on the clock in Q2 he was in danger of missing the
cut but delivered on his final lap as the clock timed out to jump six
spots and go quickest and into the shootout.
In the shootout and the last to go of the six he fluffed his lines on his
first flying lap after Marit Stromoy had grabbed the provisional pole
with a monster 44.72s lap, but again when it mattered Torrente went
into 'party mode' and went quickest by 0.18s, much to the relief of
team manager Guido Cappellini!
The other star of the weekend was Stromoy – she was just mighty,
outstanding in qualifying and produced one moment in the race that
completely dispelled any argument that women struggle at the top
level in motorsport.
After fluffing her own lines from P2 off the dock and dropping places,
the yellow flag following the first corner mayhem between Philippe
Chiappe and Duarte Benavente that side lined both, threw her a
lifeline.
Again she was a little shy at the restart, lost ground to race leader
Torrente and was caught and momentarily passed by Abu Dhabi's
Erik Stark, the two all but rubbing paint at turn 5 and Stromoy
pushed wide on the outside. But the Emirates Racing driver was
F
Marit Stromoy produced by far her best
performance of the season to finish in second
n° 5 DECEMBER | 2018
8